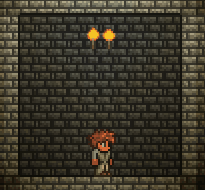 The Infusion Crystal is a Currency item which is obtained from a Mysterious Gem after The Lost Siblings have been defeated.
It is used to buy the Tiridium Infuser from Nuba.
Notes
[
]
As it cannot be re-obtained, it is advised to store it in a chest to avoid it from being lost.
History
[
]
Consumables:
Potions (
Buff Potions) •

Ammunition •

Materials (

Drops •

Ores •

Bars) •

Other